Dance Avenue performance team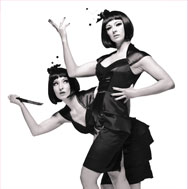 Dance Avenue Performance Team (Polish Champions in Latin Show IDO) is a group of dancers with many years' experience in a variety of dance techniques.
The founder and leader of Dace Avenue Performance Team is Vice-World Mambo Champion IDO and multiple Polish Salsa Champion - Monika Grzelak.
Dance Avenue have a repertoire of a dozen salsa shows and collaborate with the Sopot Dance Theatre for theatre performances such as "3xNoirDanse" - a unique fusion of salsa and modern dance.
read more